Mobile energy road to future



Published:2015-02-03

Source:China Daily




Renewables firm announces plans to develop totally solar-powered vehicles
Privately held renewables company Hanergy Holding Group Ltd announced on Monday that it will develop a totally solar-powered car that can go into commercial production in October.
Li Hejun, founder and chairman, said that mobile energy will revolutionize the new material, advanced manufacturing and energy-conservation industries.
Hanergy will cooperate with five vehicle designers - three foreign and two domestic - to develop three to five models of vehicles. Each will have a thin-film solar battery measuring 6 square meters that will power a vehicle for 80 to 100 kilometers after a four-hour charging period.
During a news conference last month, Li said that thin-film solar technology had reached a conversion efficiency of more than 20 percent, which was competitive with traditional solar photovoltaic panels.
China's alternative-fuel and electric vehicle industries have expanded rapidly in recent years.
According to the China Machinery Industry Federation, 78,499 alternative-fuel vehicles were produced last year, three and one-half times the output of 2013. Of the total, 48,605 were electric cars, up 240 percent.
Deputy Minister of Industry and Information Technology Su Bo told an industry conference last week that China's machinery manufacturing sector has "great opportunities" in several strategic industries, including alternative-fuel vehicles.
The fast-growing vehicle sector has become a major revenue driver for the machinery industry, providing as much 32 percent of sales for companies, figures from the federation show.
Governments at various levels, grappling with serious air pollution, have widely supported the electric vehicle sector.
But the number of recharging poles for EVs is still relatively small. Hanergy believes that puttingmobile solar thin-film equipment in vehicles will solve the charging problem and drivers will no longer need to pay for electricity or gas.
The company estimated that by 2020, the number of EVs on the roads worldwide will reach 5 million to 10 million. At present, there are more than 400,000 EVs worldwide.
Some industry sources have commented that the company's current strategy of gaining technology through acquiring foreign companies is not sustainable.
In August, Hanergy acquired Alta Devices Inc, a California-based developer of high-efficiency thin-film solar cells, following three other acquisitions in the previous two years.
Hanergy, which was founded as a hydropower company, has more than 6 gigawatts of installed hydropower generation capacity, 131 megawatts of wind power generation capacity and total thin-film solar generation capacity of 3 gW, according to its official website.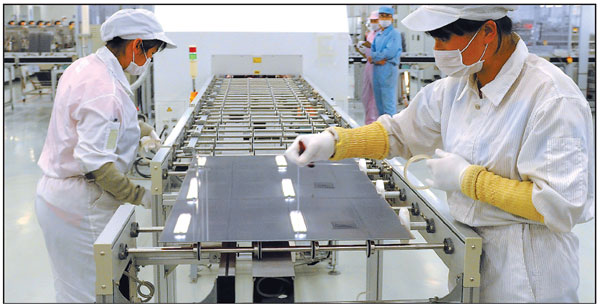 A workshop of Hanergy Holding Group Ltd in Dezhou, Shandong province. The company will develop a totally solarpowered car that can go into commercial production in October. Provided To China Daily
About Hanergy Thin Film
Hanergy Thin Film is the world's leading thin-film solar technology enterprise. It is mainly engaged in the research and development and design of large-scale thin-film solar turnkey production lines, as well as the development and operation of downstream solar power projects and application products. On November 27, 2013, Hanergy Thin Film was included in Morgan Stanley Capital International (MSCI) China Index. The Company is the No.1 solar thin film turnkey line provider in the world by scale and by profitability, having delivered about 2,000MW production lines. In 2013, the Company recorded a net profit of HKD2.06 billion, enjoying a remarkable growth of 57.2% year-on-year. Hanergy Solar places technology advancement as its top priority and is equipped with strong R&D; capabilities, with a focus in advanced thin-film technology applied in flexible substrates. Hanergy Thin Film's CIGS solar cells have reached a conversion efficiency of 20.5% under the guidance of a world-class thin-film solar energy expert team. In February 2014, Hanergy Thin Film acquired 100% interest of Hanergy UK and currently sells "Hanergy" branded thin-film solar photovoltaic equipment through IKEA UK directly. In May 2014, Hanergy Thin Film formed a strategic partnership with Tesla, a US electric vehicle maker, for the construction of PV Supercharger stations in China.
Return to News.